Shampure - Instantly condition for all hair types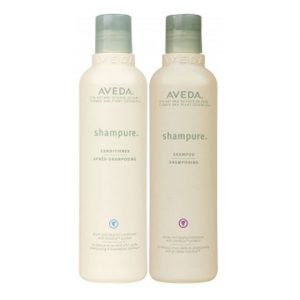 When Team Aveda wanted to create a calming, nourishing blend for all hair types, they created the Shampure line. The line contains Aveda's patented PureFume: a blend of 25 flower and plant essences, including organic lavender and petitgrain.
Rosemary and Mint – Add body to fine hair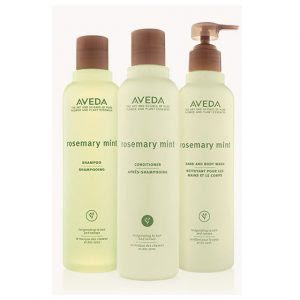 Adding body to even the finest hair, the invigorating formula of the Rosemary & Mint creates shine and radiance. Infused with rosemary, peppermint, lavender, and marjoram.
Cherry Almond - For all lengths of normal to dry hair, especially long hair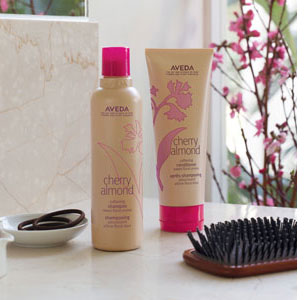 An especially moisturizing formula, this luxuriously scented line is well suited for long or thick hair in need of a bit of extra love. The pure-fume aroma contains 38 flower and plant essences including tonka bean, certified organic orange, and ylang-ylang.
​​​​​Be Curly – For frizzy hair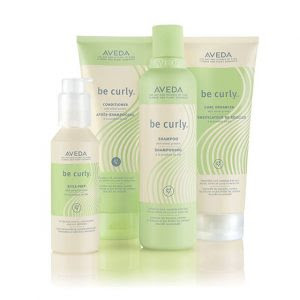 The Be Curly line is specifically formulated to give your curls definition and shine, while simultaneously banishing frizz. Ingredients such as wheat protein lock in your curl, so that you can go all day while maintaining bounce in your hair – and your step!
Colour Conserve – For long lasting hair color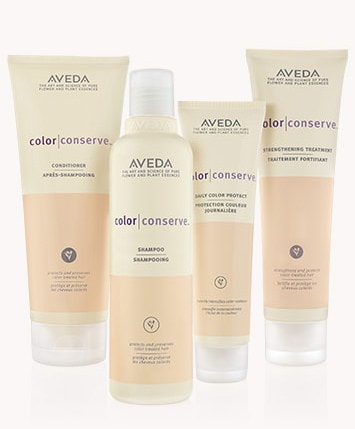 Our clients choose Aveda because they've seen the results: long lasting, vibrant, and natural hair colour. Now, Aveda has created a team of superhero products made to protect and serve your hair colour – with wintergreen, cinnamon bark oils, and a pure-fume formula rendering it even more long-lasting than previously thought possible.
Smooth Infusion – For creating naturally straight hair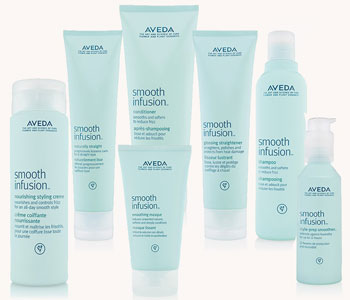 Stick straight, nourished, and non-frizzy hair: it's the Aveda guarantee that you'll see results with Smooth Infusion. Shea butter reduces volume and smooths coarse hair, while an exclusive blend of organic aloe, maize, and guar bean work together to create an even smoother hair cuticle.
Scalp Benefits - Gentle care for all hair types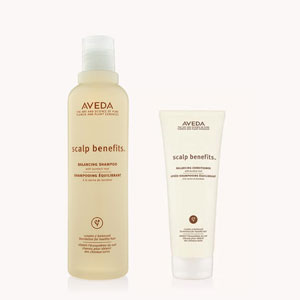 Burdock root, echinacea, and sage massage and nuture your scalp, balancing pH and nourishing roots so that the bounty of your hair can flourish.
Sap Moss - Hydrate without the weight - For curly, coily, wavy or straight hair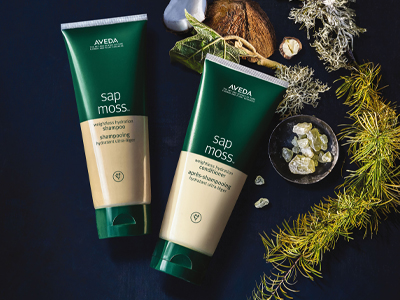 Experience the hidden powers of Sap & Moss. Iceland moss can absorb twice its weight in water to survive winter droughts. Larch sap seals in moisture to survive long northern winters. Take a cue from nature, sap moss hydrates your hair without weighing it down.
Nutriplenish - Superfood-infused hydration - For all hair types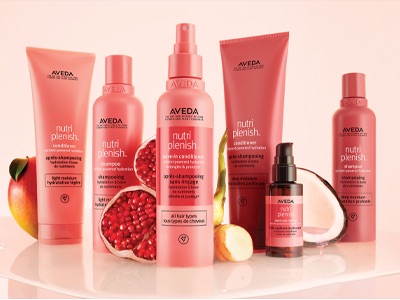 Our intensely hydrating, replenishing collection formulated with omega-5-rich organic pomegranate oil for lush, visibly healthy, manageable hair.
Botanical Repair - For all hair types; Strengthen and repair hair from the inside out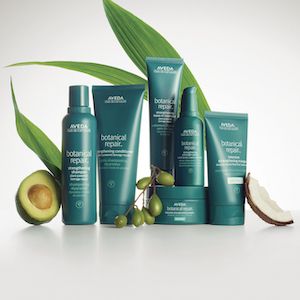 Goodbye damaged hair, hellooo stronger strands! Try the botanical repair line, formulated to build healthier, softer, shinier looking hair. Nourishing macro green blend with certified organic oils.
Brilliant – Deep cleanse and for oily hair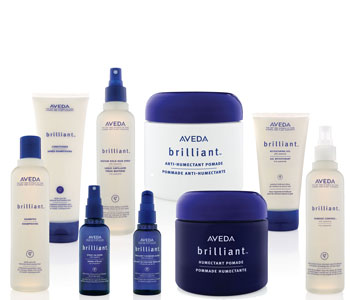 Oily, textured, or chemically treated hair will sing when met with the deep cleansing forces of the Brilliant hair line. Calendula, camomile, and aloe soothe the scalp and leave your hair clean, healthy, soft, and shiny.
Pure Abundance – Thicken fine hair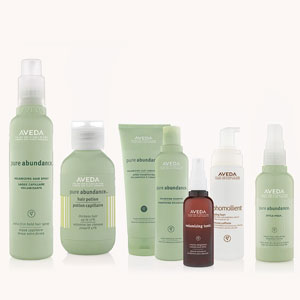 Weightless volume and body await fine hair with the application of the Pure Abundance line. Naturally derived boosters like acacia gum and kaolin clay enhance these products for bounce that can't be beat.
Pramasana - Scalp cleanser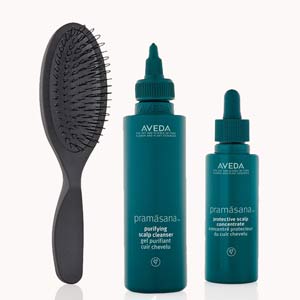 As flowers grow from rich soil, so does beautiful hair flourish when emerging from a healthy scalp. Babusa, tamanu oil, seaweed extract and more form an exclusive blend of ingredients that balance, protect, and preserve the scalp's natural barrier. Try the exfoliating brush for an unmatchable cleanse.
Invati Advanced – For thicker, fuller hair

This system is lightning in a bottle, boosting your scalp's ability to strengthen and restore thinning hair. Wintergreen-derived salicylic acid and turmeric cleanse, exfoliate, and condition to get your mane back on track.
Sun Care – Restore sun-damaged hair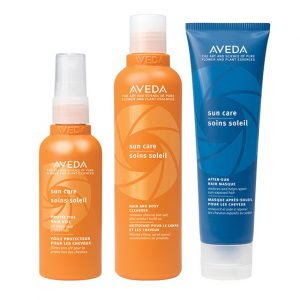 With summer comes sunny days spent by the pool, lake, or ocean.
Aveda's Sun Care line protects against inevitable sun, salt, and chlorine damage by defending against harmful UV rays. These products also work to minimize colour fading, damage, and dryness.
Men's Pure-formance – Hair care products for Men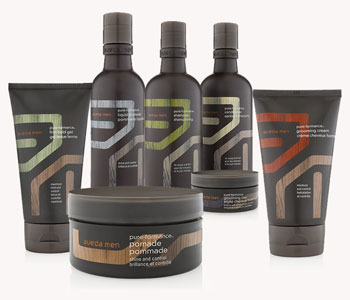 A little known difference between the sexes – those born with the Y-Chromosome have thicker scalps. As such, men are more prone to sensitivity, itchiness, irritation, redness, and other concerns. Kunzea, citrus, spearmint, vetiver, and lavender work in tandem to soothe and moisturize scalps suffering from testosterone – leading to hair that smells rich, spicy, and refreshing.
Control Styling Products - All hair types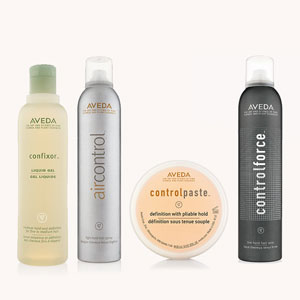 For the firmest hold, go for Control. This styling line can't be beat for holding your hair in place, how and when you most need it. It's also unbeatable in terms of guilt-free styling: for each aerosol product created, Aveda funds renewable wind energy to offset CO2 emissions.
Hand Relief and Foot Relief - Your feet carry you through the world; your hands allow you to experience it.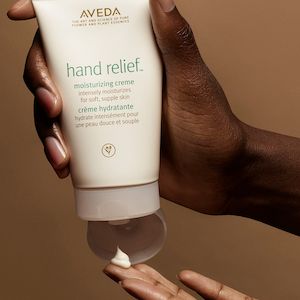 Andiroba oil and other plant hydrators help infuse skin with nourishment. Like a mani/pedi at home, your hands and feet will appreciate the luxury you treat them to.
Aveda Tea - Calms your senses, promoting a sense of well-being
Certified 100% organic, this caffeine-free, sugar-free, herbal infusion of 100% peppermint and licorice root steeps you in comfort, calming senses and promoting well-being from the inside out. Drink hot or iced in convenient tea bags.